Bangabandhu National Agriculture Award 1421 and 1422
Prime Minister Sheikh Hasina hands over the Bangabandhu National Agriculture Award to Ms. Kohinoor Yeasmin, CEO, TARANGO one of the recipients in the capital's Osmani Memorial Auditorium contribution to the development of the country's agricultural sector on 16 July 2017 at Osmani Memorial Auditorium in the city. Bangabandhu National Agriculture Award 1421 and 1422 received by 64 recipients, the highest state recognition in the agriculture sector. Ten individuals and organisations received gold medals and eighteen individuals and organisations received silver medal  Prime Minister Sheikh Hasina distributed the medals, cash and certificates among the winners at a function held at the city's Osmani Memorial Auditorium. Agriculture Minister Matia Chowdhury presided over the function. Environment and Forest Minister Anwar Hossain was present as a special guest.
Dance Performance
Dance Performance (2015): On Wednesday, November 25th, 2015, TARANGO celebrated International Day for the Elimination of Violence Against Women.  The event was extremely successful, with hundreds of people coming out to join us.  The day included dancing, plays, and speeches.  After each performance, the audience was invited to discuss the issues that were raised, and what the people of Bangladesh could do about the challenges facing women in the future.
We invite you to check out our pictures, learn more, and see the video of our dance-drama.
——
Rana Plaza Skills Training (2014-2015): After a major garment factory collapsed in 2013, TARANGO assisted the survivors by providing entrepreneurial training to women.  You can find out more, hear the stories, and watch the video by clicking here.
——-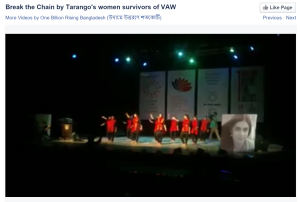 Dance Performance (2013): On Saturday November 30, 2013 The courageous survivors from TARANGO, who have broken the silence and risen to perform a dance to the theme song of ONE BILLION RISING FOR JUSTICE! at the Bangladesh Shilpakala Academy.
Please click here to view the video!
——-
Award (2008):  
TARANGO was awarded a crest and certificate for the best jute diversified product-2007-08 by JDPC (Jute Diversification Promotion Corporation), Ministry of Jute & Textiles.